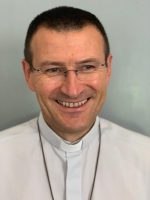 Welcome to Trinità dei Monti
Dear pilgrims and tourists,
Dear résidents of Rome and elsewhere,
Welcome to you all, those first visitors, or those of you who are already familiar with this property, rich in history, beauty, science and faith.
In September 2016, some members of the Emmanuel Community began to live and serve in this place that testifies to the human ans spiritual wealth of all those have lived her over the centuries. Thanks to restorations made in recent years, the monastery and the Church of Trinità dei Monti have regained all their splendor and offers a moment of rest and contemplation to all those who are fortunate to be able to come here. I invite you to have this unforgettable experience : to climb the slopes of Mount Pincio and leave behind the noise and bustle of the city and stop in this place of beauty and peace. Let yourselves be inspired and touched by its treasures and take a breath.
As you will discover in the pages of this site, Trinità dei Monti is not only a tourist spot witnessing to past centuries, but a place of education and meetings, a place of welcome and prayer, a lived in and energetic space. On behalf of all of us who live ans serve here, we look forward to welcoming you as soons as possible to Trinità dei Monti.
See you soon,
Father Paul DE LA MORINIERE
Rector