Stay in a haven of peace, right in the centre of Rome,
with a breathtaking view of the Eternal City.
St. Joseph's Guest House is a beautiful 17th century building, which offers a friendly and welcoming atmosphere, ideal for rest and peace of mind, body and heart. We take care to welcome everyone personally, and are happy to talk with guests who wish to do so.
IN A HAVEN OF PEACE IN THE HEART OF ROME
In the heart of the historic centre of Rome, adjacent to the Villa Medici, the guest house overlooks the Spanish Steps. Set in a beautiful garden, it provides guests with a peaceful and relaxing setting. It has a terrace with a breathtaking view of Rome, a beautiful place to open up to contemplation and wonder.
FOR PILGRIMS, ART LOVERS, VACATIONERS ...
St. Joseph's Guest House in Trinità dei Monti welcomes anyone, mainly French-speaking, who comes to Rome alone, as a family or in a group, on a pilgrimage or a cultural trip.
It is particularly suitable for school groups and chaplaincies.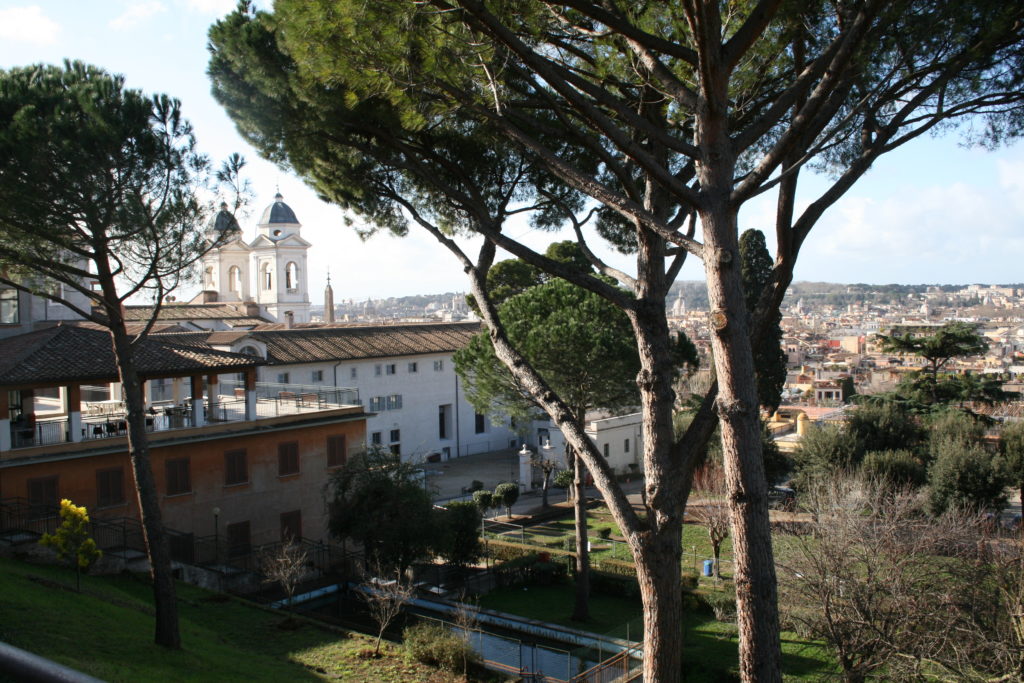 To reserve your room at St. Joseph House, please fill out the appropriate form
The house has a capacity of 55 people. It has 21 rooms, 3 of which are on the ground floor and 18 on the first floor.  The rooms can accommodate 1, 2, 3 or 4 people. Many of them are equipped with bunk beds.
Details of the rooms:
      4 rooms for 4 people
      8 rooms for 3 people
      6 rooms for 2 people
      2 rooms for 1 person
Each room has a private bathroom, either inside or outside.
Sheets and towels (small size) are provided.
The reception is done at least for two nights.
In the evening, the access to the site of the Trinità dei Monti closes at 11:45 p.m.
The minimum stay is two nights.
Arrivals are from 8.30am to 12.30am and from 2.30pm and 9pm.
To enable us to welcome you in the best possible way, we ask you to confirm your precise arrival times at the reception desk, on the following number: +33 7 82 42 10 22 or +39 334 839 0728. Please, don't use those for booking!
On the day of your arrival, the rooms are available from 2pm. 
On the day of your departure, the rooms must be vacated by 9 a.m. Luggage storage is available.
Breakfast is included in the nightly rate.
It is served from 8am to 9am.
It is also possible to have dinner at the guesthouse, with prior reservation. Please advice us, and wait for our answer. Dinner is provided from 15 registrations onwards. It is served at 7.15 p.m. sharp from Monday to Saturday, except on public holidays, and costs €14 per person. It is a typical Italian dinner, consisting of a starter, a main course and a dessert, prepared on the spot by our cooks. 
Please contact the secretariat for further information.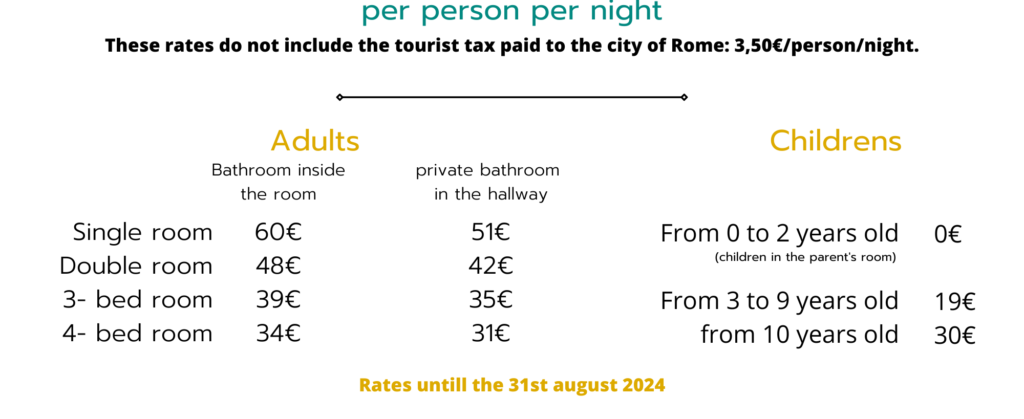 From Fiumicino Airport
   By train: Leonardo Express. Departure every 30 minutes, 30 minute ride to Termini station, then metro A to Spagna stop. Notice : from the 4th July 2022, metro A will be close between 9pm and 5.30 am from Sunday to Thursday. There will be a replacement bus from Flaminio or  Piazza Barberini. 14€ + metro ticket.
      By bus : Sitbus Shuttle to Cavour stop (via Crescenzio). Departure every 30 minutes, 50 minute ride, then 20 minute walk to Trinità dei Monti About 8€.
                    Any other bus company – Terravision, Sitbus, TAM. Departs every 30 minutes, 1 hour ride to Termini station, then Metro A to Spagna stop. About 8€ + metro ticket.
From Ciampino Airport
        By bus : several companies (Terravision, SitBus Shuttle TAM bus). Departure every 30 minutes. Duration about 1 hour until Termini, then metro A until the Spagna stop. About 7€+ metro ticket.
The entrance to the vacation home is in Piazza Trinità dei Monti, 2d, a large gray gate, 150 meters from the Trinità dei Monti church (on the road to Villa Medici). Ring the intercom bell of the casa per ferie. Inside the site take the path on the left, which runs along the Villa for about 150 meters.
Guests arriving by car have the option of leaving their car in the private parking lot. Please contact the secretary in advance for further information.
Attention : Access to the center of Rome is strictly regulated (ZTL). Cars without a specific authorization can enter only outside the prohibited hours, under penalty of a fine (from 80€ to 335€). These hours are in force from Monday to Friday from 6.30 to 18.00 and on Saturday from 14.00 to 18.00. However, remember to check your route to verify the hours of the access point (https://romamobilita.it/it/servizi/ztl).
Address to insert in the GPS: Piazza Trinità dei Monti, 2, 00187 Roma
A large and cozy lounge is available to all guests. Here you will find various books and guides of Rome. It is equipped with Wi-Fi internet connection.
An oratory is available for guests. Masses can be celebrated for small groups (12 people) (ask the secretary).
A meeting room with a capacity of about 30 people can also be available upon request.
The entire site of Trinità dei Monti is non-smoking, including outdoor areas.
Since 2016, the Community of Emmanuel has been in charge of the Trinità dei Monti site, whose spiritual life it animates. 
You can join us for adoration, Holy Mass or a prayer vigil in the charisms of the community.
To visit Roma from the Guest House
St. Joseph House's unique geographic location allows for most visits to be made on foot. It is located at : 
2 minutes from Spanish Steps
10 min from Trevi Fountain
20 min from San Luigi dei francesi
20 min from Piazza Navona
20 min from Piazza Venezia
25 min from Santa Maria Maggiore
30 min from Colosseum
35 min from Saint Peter's Square
The convent of Trinità dei Monti is home to artistic and spiritual wonders. We invite you to discover them during guided tours on Tuesdays and Thursdays at 5pm. Reservations required, more information below.
Members of the Community of Emmanuel, priests or lay people (married couples, consecrated brothers or sisters) are at your disposal for an exchange on a specific point, a testimony, etc. You can contact us by e-mail: secretariat.tdm@emmanuelco.org
At a distance of 10 minutes from the house you will find all the stores you might need: grocery stores (Coop, Carrefour express, Pam), pharmacy and shopping for all tastes, many restaurants and ice cream parlors that allow you to satisfy any kind of appetite or gluttony.
For booking requests, you will find the links in the "Booking" section at the top of this page. 
If you have any questions that have not been answered, you can write to us using the contact form below.
The secretary's office is open on working days from 09:00 to 17:00.
Access address :
Piazza Trinità dei Monti, 2d
00187 Roma
Administrative address : 
Piazza Trinità dei Monti, 3
00187 Roma
Licence number of the guest house
Casa San Giuseppe a Trinità dei Monti N° 12533